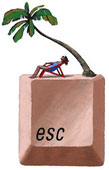 Submit Reporter
Preference Sheet


Please contact me by phone at 714-401-9497, or by email at hwrobinson28@aol.com.

I look forward to working with you!
My name is Heather Robinson and I am a professionally trained scopist and a graduate of Best Scoping Techniques. I have Case CATalyst 9 software and am happy to work with anyone, anywhere in the country.

My goal is to help you, the hard-working court reporter, relax and enjoy your free time. Escape from all those extra hours of work and let me scope your transcripts for you!

Before starting my own home-based scoping business, I worked in the business world for 20 years. My background is in medical, insurance, and customer-service-based industries. This, along with my year of paralegal study, provides me with a broad base of knowledge that will help me to understand and research terminologies and spellings for you. As a business professional, I know what it takes to provide you with the level of service you deserve.