Submit Reporter
Preference Sheet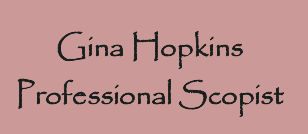 Scoping using Eclipse software.
Able to read steno.
Professionally trained scopist.
Graduate of BeST Scoping Techniques.
Excellent attention to detail and accuracy.
Reliable and enjoy research.
Nine years of experience as a pharmacy technician.
Available for full-time, part-time, or overflow scoping.
Services provided to suit your personal preferences and style.
Competitive rates with fast turnaround.

I can be reached by phone at (716)563-9513 or via email at hopkinsg14@gmail.com. I look forward to working with you!