Submit Reporter
Preference Sheet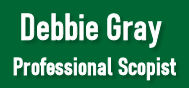 I am a scopist on Case CATalyst. My name is Debbie Gray and I have 17 years of experience in rehabilitative therapies and education.

I have a strong language background, which includes medical terminology. Delivering the cleanest transcript, in a timely manner, and at a reasonable rate is my goal.

Please contact me at either 603-477-9828 or email at dgrayscoping@gmail.com.